Instructional – DVD'S
Join Kathy in her sewing studio as she teaches five hours of dressmaking techniques. Six hours on everything you need to know to take full advantage of what a Serger machine can do.
One DVD  $20 ea. All Five Dressmaking DvD's $85  Or All Five Serger DVD's $85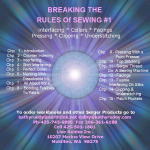 All 5 Serger DVD's $85
Serger Decorative Threads, Solving the Mystery of Tension, Serger Sewing, Serger Troubleshooting & Gifts, and Serger Lingerie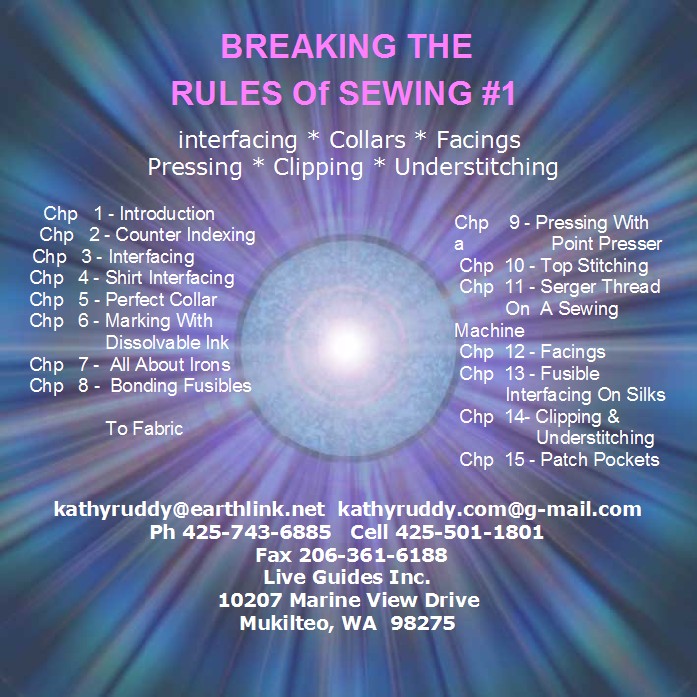 Breaking the Rules of Sewing #1
Counter Indexing, Interfacing, Shirt Interfacing, Perfect Collar, Marking With Dissolvable Ink, All About Iron, Bonding Fusibles To Fabric, Pressing With a Point Presser, Top Stitching, Serger Thread On A Sewing Machine, Facings, Fusible Interfacing On Silks, Clipping & Under stitching and Patch Pockets.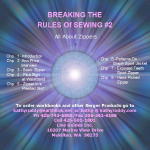 Breaking the Rules of Sewing #2
All About Zippers 1 Introduction, 2 Ann Price Interview, 3 Basic Zipper, 4 Plus Sign at Waistband, 5 Zipper in a Pleated Skirt, 6 Patterns On Graph Sport Jacket,7 Exposed Teeth Sport Zipper, 8 Hand Picked Zipper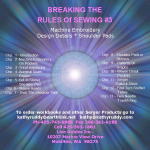 Breaking the Rules of Sewing #3
Machine Embroidery - Design Details - Shoulder Pads Machine Embroidery On Pockets,Tricot Interfacing, Surgical Seam Ripper, Set-In Sleeve Shoulder Pad, Sleeve Heads, Dropped Shoulder Pads, Shoulder Pads in Blouses, Patterns on Graphs, Woven Detail Pockets, SergerFlatlock Stitch, Fast Turn Stuffed Tubes, and Twin Needle Topstitching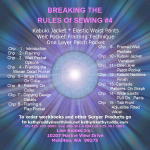 Breaking the Rules of Sewing #4
*Kabuki Jacket *Elastic Waist Pants *Welt Pocket Framing Technique *One Layer Patch Pocket Framing, Welt Pocket Options, Framing the Woven Detail Pocket, Stripe Details On Collar, Framing On Collar,Copying Design Details, Framing a Flap Pockets, Framed Welt Pockets, Kubuki Jacket Variation, One Layer Patch Pocket, Kabuki Neckline Finish, Camisole Patterns On Graph, Wide Elastic, Pull On Pants, Tab Front and Adjustable Fitted Waist.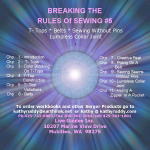 Breaking the Rules of Sewing #5
*T- Tops *Belts *Sewing Without Pins *Lumpless Collar Joint T- Tops, Color Blocking On T-Tops, T-Top Construction, T- Top Variations, Belts, Creative Feet, Piping On A Belt, Sewing Seams Without Pins, Lumpless Collar Joint, and Hiding A Zipper In A Pocket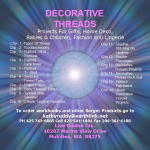 Serger Decorative Threads
Projects For Gifts - Home Deco - Babies & Children - Fashion and Lingerie Types Of Thread, Troubleshooting, Flatlock Stitch Formula, Flatlock Lace Inset, Flatlock T-Shirt, Securing Thread Tails, Rolled Edges, Baby "Onesie" Dress, Twisted Bow Sweater, Create Lingerie Necklines, Shadow Stitching On Lingerie, Double Placemats, Decorative Threads Projects, Decorative Thread On A Suit, Flatlock Patchwork and More Decorative Thread Projects.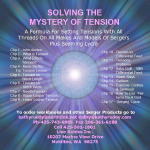 Solving the Mystery of Tension
A Formula For Setting Tensions With All Threads On All Makes And Models Of Sergers Plus Seaming Lycra: What is Tension? What Effects Tension? Basic Set Up For Tension Lesson, Tension vs Stitch Length,Tension vs Stitch Width, Needle Tension, Upper Looper Tension, Lower Looper Tension, Tension vs Differential Feed, Tensions Problems, Baby Quilt With Differential Feed, Seam Stays, Gathers, Exercise Clothes & Swimsuit, How To Use Patterns On A Grid and Serging Lycra.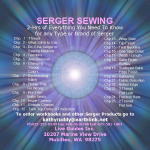 Serger Sewing
2-Hrs of Everything You Need To Know for any Type or Brand of Serger Thread, What Stitch to Use, Do I Use Serger or Sewing Machine, Tensions, Jam Removal, Changing Thread Colors, Sychronizing Stitch,Things That Go Wrong, Pre-Trim Bulky Seam, Inside Corners, Outside Corners, Tank Top Order of Production, Wrap Start, Flip Finish,Twill Neckline, One Step Collar, Width/ Length, Satin Finish Ruffles, Scalloped Satin Edge Finish, Gathering, Fabric Distortion, Rolled Edge, Thread Flat Lock, Flat lock Hem, and 2 Thread Flat lock.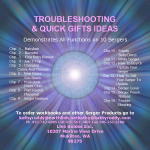 Serger Troubleshooting & Gifts
Demonstrates All Functions on 10 Sergers Babylock, Bernette, Elna Baby Blanket, Juki T-Top, Changing Colors And Threads, New Home Sun Dress, Huskylock Press Cloth, Pfaff Round Placemat, Singer Napkins,Toyota Baby Dress, White Serger, How To Buy Or Update Your Serger, How To Sell Your Serger, Serger Cover, Serger Pouch Notions and Trouble Shooting.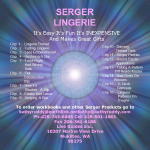 SERGER LINGERIE
It's Easy - It's Fun It's INEXPENSIVE - Makes Great Gifts Lingerie Thread, Cutting Lingerie, Lace Embellishment, Restoring A Slip,Tricot Right & Wrong Side, Flat Construction Slip, How To Shorten A Slip, Elastic And Laces, Serging A Slip, Darning Thread Tails, Serger Panties, Round Elastic Applications, Taking A Pattern Off Ready-Mades, Bias Grain On Wovens, V- Neck Camisole and Lingerie Patterns On Graphs.