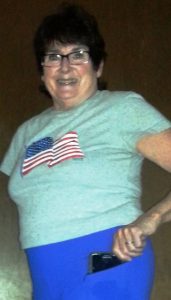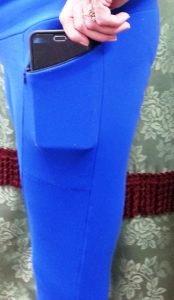 Throughout the month of January, I wore both purchased and my custom fitted and custom made yoga pants to the YMCA weight room.
My custom yoga pants were the best and here are 2 reasons why you should attend my Awesome Athleisure – Wear It Anywhere class or if you cannot make it to a class,invest in the tutorial and CD and order a custom fitted negative ease yoga pants pattern.
1.The secure zipper phone pocket on my thigh is so nice. My purchased yoga pants do not have this feature.
2. My custom fit, custom made, royal blue pants did not have to be pulled up ONCE. They stayed in place getting in and out of my car, exercising and even sleeping in them because they were custom fitted to my body.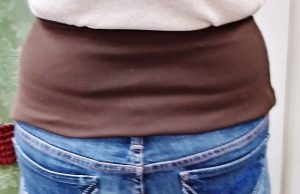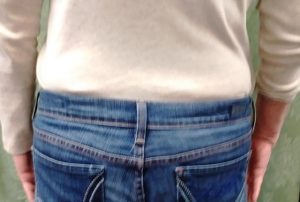 After you learn how to make a yoga yoke in the class or in the tutorial or CD, you can use performance high compression contrast fabric to make a yoga yoke and then update your low rise pants into figure slimming high rise pants. It is like adding "spanks" to the top of the pants. You will look slimmer and feel so comfortable in this upgrade.
If you cannot make it to class, the tutorial and 3 Ways to Learn CD. If you want me to draft you the patterns, send an e-mail to kathyruddy@earthlink.net for more details and I will attach a measuring page to a return e-mail. Do check out where on will be teaching this class in 2018 on my events calendar page at http://kathyruddy.com/events/list/