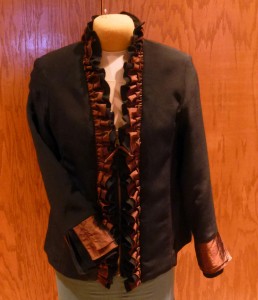 I just finished a new project as a promise to update my jacket wardrobe with less shoulder pads for a more contemporary look. Encouraged by my two adult daughters and  most important, Marlene Ingraham, director of education for the Original Sewing & Quilt shows, I agreed to cut the thickness of my shoulder pads in half and narrow the shoulder width a bit.
My genetics give me ski slope shoulders that cause horrible drag lines under my arms in any garment with sleeves, especially  jackets. This fit issue makes you look tired and your bust, waist and hips look bigger. So I fill the missing space between my shoulder angle and patterns with stuffing. I am so sensitive about this issue that I used to even wear foam shoulder pads under my T-Shirt when I went out jogging until one day I came home missing one of my favorite pads.
I just finished a brand new 3 Ways To Learn CD called Copper Ruffle Jacket.  I saw this jacket in a boutique in Kansas City last fall. It has wonderful Sew To Look slimmer design lines and best of all, I teach you how to take one of your favorite jacket patterns, add vertical seamlines and move the shaping darts into the new seam lines. The more you learn about pattern manipulation the more you can sew exactly what you see and want with out trying to find that perfect pattern that probably does not exist.
Other new things to learn are how to create bias ruffles and three tier single layer cuffs plus a zipper tab front closing that you could use on any pattern.
All of these changes emphasize the vertical that takes pounds off of your visual appearance. The ruffle and zipper tab finishes are not only fun to sew but make you look wonderful. Now you can buy this "new" Copper Ruffle Jacket CD and attend my lecture class this spring at a Sewing show near you. Here is the info for the class.

Streamlined Construction for Contemporary Jackets
A well-shaped jacket using the proper interfacing, underlining and/or lining provides camouflage, confidence and comfort. And, they're faster to make than ever! Learn shortcuts for notched collars, application of interfacing and underlining, shoulder shaping, sleeve installation, lining and hemming for great-looking jackets to wear everyday everywhere.
Check my travel schedule and the show website for dates locations & times.
I hope to see you soon!
Happy Sewing Kathy Ruddy